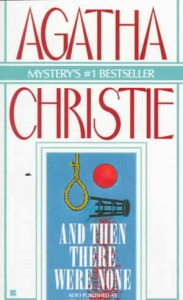 And Then There Were None by Agatha Christie
When my 9th grade son came home with And Then There Were None (borrowed from his English teacher's bookshelf), I knew I'd have to swipe it for a couple days. The back cover reads, "Perhaps the greatest mystery novel of all time, And Then There Were None is Agatha Christie's acclaimed masterpiece of murder and suspense."
Ooh, grab the blanket and popcorn! How do you describe the sheer genius of Agatha Christie? I've read some of her other novels, but this one left me pretty impressed with how she pulled it off.
A group of 10 strangers have been invited to "holiday" (British lingo) at a mansion on a private, secluded island. The host, Mr. Owen, is late to his own party, which is curious and disconcerting to the group of very diverse guests. Christie sets the scene very carefully, with every word and phrase significant to the story. There is lots of key info up front; with 10 characters introductions in the first 10 or so pages, I had to flip back often to reacquaint myself with each one.
Soon enough, we are subjected to first murder, and they continue steadily as each guest meets with a sudden, violent death. The rhyme of the ten little Indian boys is used very cleverly by the author/murderer within the story.
This book is old-fashioned fun and a quick read—you can't go wrong! Josh loved it too, even though he admitted to me later that he read ahead. (Duh! Don't do that!) Thanks for the loan, Josh's teacher!